WU@CEC: Fiddler on the Roof this Week!
10/30/2018 07:00:06 AM
| | |
| --- | --- |
| Author | |
| Date Added | |
| Automatically create summary | |
| Summary | |
Fiddler on the Roof Joint Event with Temple Shalom - Nov. 3rd
Announcing Pieter Kohnstam, Holocaust Survivor Presentation Nov 13th
(RSVP Requested for Space Planning)
Interfaith Thanksgiving Service hosted by Benton County Interfaith Alliance
Birthdays, Anniversaries, New Members and Yahrtzeits
Drivers Needed: 27th Annual Holocaust Conference
​​​​​​​​​​​​​​Tikkun Olam Opportunities
Board Meeting Date and Time
​​​​​​​Shabbat Services
​​​​​​​Contact CEC and Become a Member
Contact the Cantor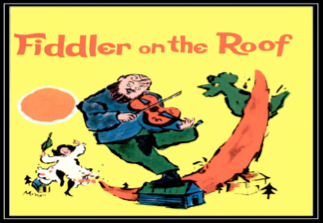 Congregation Etz Chaim and Temple Shalom
Invite you to a an evening of joint programming!

When: Saturday, Nov. 3rd
Time: 7 p.m.
Where: Waterway: 4074 SW H Street (AR 112), Bentonville

Are you Tevye? Golda? Yenta?
Come join us and sing along after a brief Havdalah Service. 
Anatevka goodies and various nosherei will be served.

Please RSVP for space planning: president@etzchaimnwa.org

The Arkansas Holocaust Education Committee, The Jewish Federation of Arkansas, and the Roy & Christine Sturgis Charitable Foundation...

Invite you to a presentation by Pieter Kohnstam

Tuesday November 13, 2018, 7:00 PM
Hosted by Congregation Etz Chaim

Pieter Kohnstam was born in Amsterdam in 1936.
His family's apartment in Amsterdam was downstairs from the family of Anne Frank and Mrs. Kohnstam was a close friend of Edith Frank.

Anne Frank became Pieter's babysitter and playmate.
Pieter has authored a book, and spoken extensively, telling of his family's escape from The Holocaust and their journey afterwards.

If you purchase his book (available on Amazon) prior to the Presentation, Pieter will be delighted to autograph it for you.
The Holocaust ended 73 years ago, and Survivors are growing fewer and fewer each year.
In schools across the United States the teaching of The Holocaust has been eliminatedfromthe curriculum.
We must remember The Holocaust to never let it happen again.
Don't miss an opportunity to learn this survivor's story!
Location: Waterway :: 4074 SW H Street :: Bentonville
Please RSVP for space planning:
president@etzchaimnwa.org
Hosted by Benton County Interfaith Alliance
In recognition of the diversity of faith groups, in NW Arkansas, we come together for the celebration
of community, fellowship and peace.

Tuesday Nov. 20, 2018 7pm
First Presbyterian Church 901 NE J St. Bentonville

Please bring a Canned Food Item & Our love offering will benefit Canopy NWA

Carol Novick (31st)
Eytan Fidler (31st) 
Josh Saffran (31st)
Alaina Tapley (2nd)
David Martin (2nd) 
Jennifer Martin (2nd)
Erin Armendinger (2nd)
Irwin Levine, father of Mark Levine (3rd)
Drivers Needed For 27th Holocaust Education Conference

A special Holocaust Education Conference will be held this year at the Jones Center on Friday, November 16, 2018. This year's theme is: The Holocaust: What Was It? Who Knew? Who Cared?

Seven renowned national experts will be presenting from all over the US. The Holocaust survivor, Pieter Kohnstam, will be flying from Venice, Florida, to present his unique story. Pieter's family left Germany for Amsterdam when the Nazis assumed power. His family lived alongside the Franks and Pieter's babysitter was Anne Frank. His story is riveting. We are presenting at many different venues this year, including the local schools, Butterfield Trail Village, Juvenile Detention Center and other sites. We need volunteers who are willing to drive the presenters to and from the airport, hotel, presentation sites, Temple Shalom and Congregation Etz Chaim and other venues.

The driving events will occur form Tuesday, November 12 through Sunday, November 29th. You can volunteer for as many driving spots are you desire. Please contact Barry Brown (bbrown@uark.edu , 479 871-1457) if you are willing to volunteer. The workshop is supported by Arkansas Jewish Federation, Sturgis Foundation, the Temple Shalom Sisterhood and Congregation Etz Chaim.
Brown Baggin' It with FCC Tikkun Olam Opportunity

The October's Brown Baggin' It item is Legos to support FCC's Miracle on 14th Street. If you would like to participate, please contact Peggy Hicks at peggy@fccww.org.

Please bring any and all donations to a CEC event at Waterway or FCC. We appreciate your support of our relationship with FCC and our Community. Toda Raba! 
Board Meeting November 15th at 6pm
All members in good standing are welcome to attend the monthly Board meeting on:

Date: Thursday, November 15th
Time: 6 p.m.
Location: 812 W Raintree, Suite 22, Bentonville, AR

Shabbat Service on November 9th led by Cantor Radwine

Join us for a wonderful relaxing Shabbat. Cantor Radwine will lead our Friday evening Shabbat Service.

Friday, November 9th at 6:30 p.m. at Waterway with an oneg following services

Please bring your donation to services for FCC's Brown Baggin' It program (please see above for further description). Let's do some good and help our community.
Have a question? Contact us at CEC...
Did you know that Congregation Etz Chaim has a new phone number? If you are looking for information or would like to call us, you can find us at: (501) 683-8967 or at info@etzchaimnwa.org .

Complete your Membership Forms here...Join Congregation Etz Chaim and become a member supporting our Congregation. You may now join us conveniently online!
Renewing members form  click here .
New members form  click here.

Have kids you would like to enroll in Religious School?
Religious School registration form  click here.
Contact Helene Carter, Religious School Director, for additional information at email or 479-883-8598. 
Would you like to contact Cantor Sam Radwine? You can do so by emailing him from here. He is always available for you and to support our community.
Congregation Etz Chaim

Bentonville, AR 72712
Sun, June 16 2019 13 Sivan 5779